I've said it many times and will say it many more, I love direct response marketing.  Every week I receive hundreds of emails from marketers asking for tips on how to crush their competition.
While it's not feasible to respond to every email, I read them all.  Time and time again, the landing page links take me to a page that looks something like this: http://PositiveSearchResults.com.  Indeed, a very informative site.  Lot's and lot's of information.  And you know what else, lot's of information.
Hello!  Telling is Not Selling!
People are busy.  Learn to respect their time by making their lives easier.
Take for instance one of my favorite clients, Reputation Changer.   This group came to me a few months ago to help them build out their entire direct response campaign.  Granted, Reputation Changer is probably the only company on the internet that has a legitimate service.  Their clients range from politicians to professional athletes.
With that being said, their initial effort at creating a direct response offer was a complete failure.   Reptutation Changer had it partially right, with a selling not telling landing page.
So what was the problem?  For starters, Reputation Changer's site looked unprofessional.  For a group that has a service that saves the professional lives of high profile individuals, you would expect a website that creates trust.  Additionally, the copy sucked.
When writing a copy for a page, you need to keep in mind your target competition.  What separates you from the myriad of other reputation managament firms that are floating around out there.  What separated Reputation Changer was that they were the only company that actually offers a 100% money back guarantee on their service.  That's HUGE!   These guys "forgot" to add that to their original copy.  Doh!
Next, you need to clearly define your target audience.   Then pose questions that your target will answer yes to: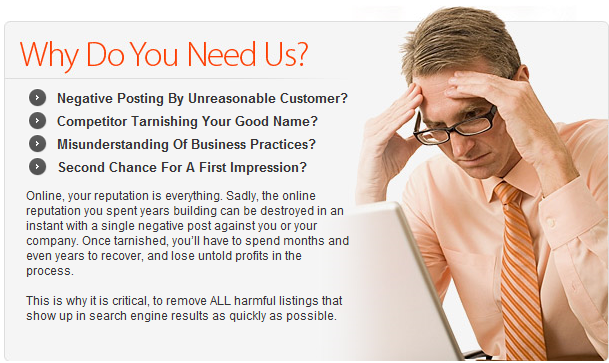 Ok, the prospect answered yes.  Great!  Hit them with your value proposition, or in other words, sell them on what you can do for them if they send you money: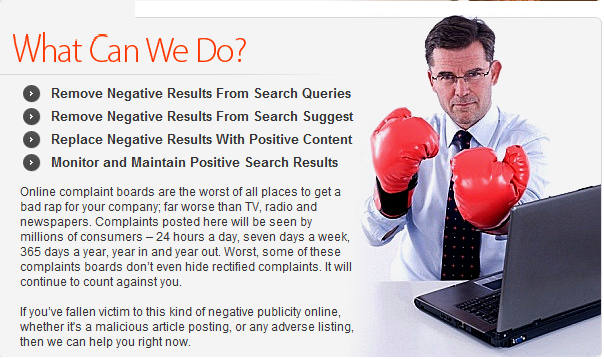 Sold!  Now make life easy for your target.  Give them multiple locations to buy.  The simpler the checkout process, the higher the conversion rate: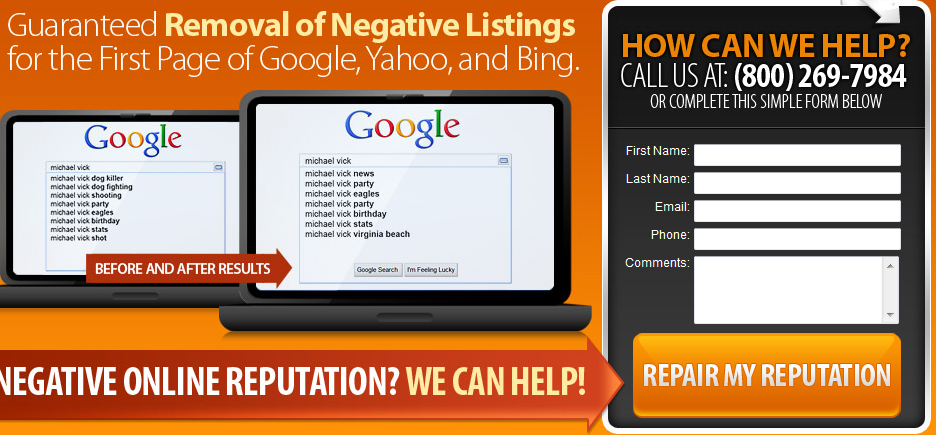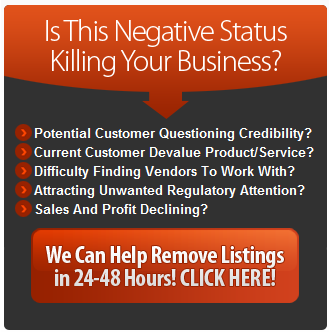 A few things to keep in mind:
1.   The landing page must flow naturally.
Close your eyes, rub them, then open them.  What's the first thing you see.  Scroll down the page.  This is how your customer will like see your page.
2.  Segment each section logically.
Compartmentalize each area of your message.  The sequence needs to stay within the realm of reason.
3.  Look at it from the customers point of view.
Put yourself in the shoes of your customer.  In the case of reputation changer, I imagined myself as a professional athlete that just got caught with cocaine.  My sponsors are going to drop me.  The NFL will levy a serious fine.   I need help right now.  Money is not a concern.  Does Reputation Changer deliver that message?
Your darn tooting it does.  Conversion rates went from a bleak 1%ish to over 22% on this project.
Do you have direct response in mind on your offer?  Shoot me over a link to your page .