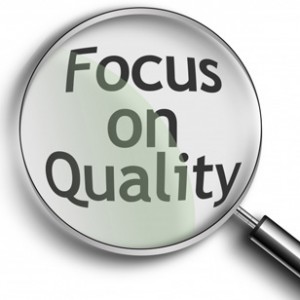 If the 3 most important words in real estate are Location, Location, and Location, then the 3 most important words in direct response are Quality, Quality, and Quality.
I know a lot of guys that can hit a hundred leads a day and create more value than publishers that hit a thousand leads a day. There's all types of pitfalls and tricks to hitting massive numbers, but at the end of the day your backend stats will tell all.
My good friend Gary McNelley, owner of MarketHealth.com, noted that 1 hardsale is worth 10 trials. I couldn't agree with him more.
Here's 5 tips on how to garnish top quality leads:
1. Strategically Align Your Campaign
Discover complimentary services and strategically align your offer.  Do you have a fulfillment company?  How about an auto-dialer?  Great!  Create a strong referral agreement and align yourself with the top CRMs, website designers, traffic sources, merchant processors, and hosting companies.
Go above and beyond your competition.  Create enormous value for your referring partner.  Payout weekly, or even daily.  Make your  referral program fully transparent.  KISS (Keep It Simple Stupid).  Don't add bullshit legalese, just make it point blank.
When leads come in, follow through.  Go above and beyond to show that you value the free leads you're receiving – bcc your partner. Put them on 3 way and mute the call.  Let them know that you're going all out to close the leads they're sending.
If you do this you're leads will start flooding in.  So long as you have the systems in place to handle the volume – bliss!
2. Strictly Control Your Traffic
I talked to a really sharp Purdue grad. gone internet marketer named Rahul last week.  Rahul noted that he was running a free trial offer on Azoogle at a $45 CPA. When he told me this I could literally feel my blood pressure rise. This poor bastard had a vacuum on his wallet and was about to learn about it after it was too late.
Rahul quickly pulled his offer and started reaching out to mini networks.
At most, you should have 5-6 publishers pushing volume to your accounts, and each publisher should hit a minimum of a few hundred to a few thousands leads a day.  If you're paying these publishers then you have absolute right to know exactly who they are, and it's your right to work with them direct.
For advertisers starting out, there's no need for more than 1 publisher or subid running your offer at any given time. (period)
3. Stick to Highly Targeted Traffic Sources
Focus on top tier traffic sources.  i.e. If your running a PPC campaign, target commercial intent keywords.
4. Create A Barrier To Entry
Small, low profit clients often take just as much time if not more to manage than high end clients.
Set barriers to vet the wasteful leads.  Then create a service or referral partnership to monetize the lower end clients.  From my experience, life is better when you sell them down the river

5. Turn Away Those That Don't Meet You're Criteria
This tip is similar to 4, though mutually exclusive.  One of my recent projects targeted politicians, high profile individuals, professional athletes, and established corporate brands. Approximately 90% of our leads do not fit this criteria.
We have created referral partnerships with our competitors to monetize these non-qualified leads.  We simply forward the leads that do not qualify and let our competitors handle them.
Part of my new years resolution was to stop doing business with low profit / overly needy clients.  The barrier to entry I created was an hourly consulting fee of $350.  The moment a prospect gives us a modicum of belief that our cost is a problem, we cease communication.  Why?
They just qualified themselves as overly needy / low profit.  I work with a handful of top notch advertisers, some that are more capital intensive than others.  The one common trait all share is their unwavering tenacity to succeed – they put their money where their mouth is.
The results: more money, more free time, and less headaches

In direct response marketing, the quality of your leads is everything.