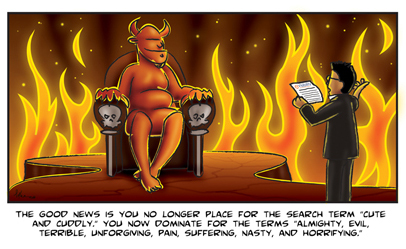 FACT: Prior to buying online, 28% of consumers conduct their due diligence on the brand via search.
FACT: 72% of shoppers that conduct their due diligence and find negative reviews choose not to purchase.
FACT: 94% of customers that do not recognize charges on their billing statements search online for the company.
FACT: 43% of customer chargebacks come from customers who discover negative reviews on a company or brand.
FACT: Having a good online reputation will significantly increase revenues while simulatously decrease chargebacks.
Check it out:
Proactiv: Go to Google and type in "Proactiv".   The entire home page returns positive results.   The Google suggest brings forth positive results.
Joliese Tan: Now go to google and type in "Joliese Tan"  Kabam, complaints in your face.  Yea yea, we all know this was a Dee offer, so brand management was never really an interest.
Joliese Tan is out of business.  Proactiv is raking in hundreds of millions of dollars.  BTW, if you type in "Proactiv Scam" there are thousands of complaints that come up.  Most consumers don't find these complaints because:
1. Google doesn't suggest them.
2.  The home page of Proactiv searches has nothing but positive references to the brand.
So how did Proactiv obscure all of the negatives while Joliese tan did not?
They either retained a top PR firm such as Reputation Changer or they hired some serious SEO gurus.
When brands gain national recognition, search volume online increases accordingly.  Out come the wolves:
- Affiliate marketers create fake review sites and attempt to poach leads searched for online.   i.e. An affiliate marketer who ranked highly for Proactiv will make a ton of money by bashing their brand.  All they have to do is say: "Proactiv sucks, this is why, click here to try a trial of this other skin care product."  Examples of affiliate sites that are notorious at this practice are:
WellnessStarts.com
HealthProductRating.com
ReviewOpedia.com
HealthProductReview.com
- Unreasonable Customers that forget to cancel or demand refunds where they're not warranted will seek revenge online.  It takes less than 10 minutes for these people to annihilate a company's brand.
How do they do it?   Easy.  They anonymously post on sites like RipOffReport.com, Scam.com, ComplaintsBoard.com, etc. and within minutes achieve ranking online.  With a modicum of SEO know-how, they plugin exact match keywords and achieve ranking.
- Companies have a huge financial incentive to tarnish their competitor's brands.  Trust me, it happens every day.  Have you ever gone to the affiliate summit?  LOL!  It's like a fucking soap opera.  There's 200 "CPA NETWORKS" that all do the exact same thing.  Everyone says that their the best and offer "the highest payouts" and have the best "exclusive offers."  Then if you ask about another network, they'll have some dirt to spill.  Barf!
At any rate, if you have an offer online and are doing volume, make sure you retain a service to monitor your brand.  By dominating the search results for your brand, you'll make a helluva lot of money!