The Direct Response Industry has LONG demanded a fulfillment solution that services the US, Canada, UK, Australia, New Zealand and beyond.
We listened to that demand!
I'm proud to introduce At Cost Fulfillment, an International Fulfillment solution exclusive for LimeLightCRM clients.  This solution was built by Direct Response Marketers, for Direct Response Marketers.
As you know, logistics are a key component of direct response campaigns.  Products needs to get fulfilled on time, everytime.  Delays in shipments often cause spikes in refunds, chargebacks,  and can violate Visa/Mastercard/FTC guidelines.  Additionally consumers get pissed off and start logging complaints about how they were "scammed."  It's a nightmare…been there, done that.
Over the past 10 years I've yet to find a fulfillment solution that has their game together.   That's why we created At Cost Fulfillment, a solution for our client's campaigns.  For the first time ever, we're opening the service up to other LimeLightCRM merchants.
To qualify for this service, you must meet 2 criteria:

If you qualify, then you can enjoy these benefits:
We pride ourselves on providing visibility into our prices and model.
Our only point of profit is a handling fee, which is an industry low $.75 per package.   We make our margins off of processing volume while other fulfillment companies make it off of high prices.  That's why At Cost Fulfillment has a higher barrier to entry.
Here's our rates: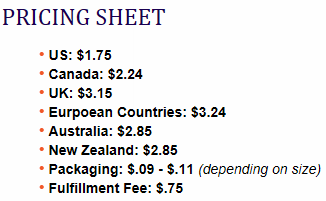 Our support center is open 24/7.  Hit us up if you qualify: 800-277-6096